This FAQ will show you how to use Local sync over your Wi-Fi or other local network. To take advantage of all the benefits of backing up and syncing your data, make sure that you're using Sticky Password Premium.
Sticky Password offers two types of secure data synchronization.
Synchronization via the cloud - allows you to backup and sync your encrypted data in our secure cloud servers.
Local synchronization - you can sync your devices over your Wi-Fi or other local network: your encrypted data never leave your network.
The Local sync option allows you to synchronize your encrypted Sticky Password database between any two of your devices. Sync 2 PCs, your PC and Android tablet or smartphone, or with your iPhone and iPad, or two smartphones or tablets to each other. In this tutorial, we will show you how to use Local sync between your PC and and iPhone.
Before we start, make sure that:
both of your devices are connected to your local network,
Sticky Password is installed and unlocked on both devices, and
Sync - local must be enabled on both devices, and
last but not least, both devices must be using the same StickyID (i.e. the same encrypted database) - after all, we're going to synchronize the data associated with one account.
Unlock Sticky Password on your iOS device, then tap the menu button in the top right corner and select Settings.
Click Synchronization Settings.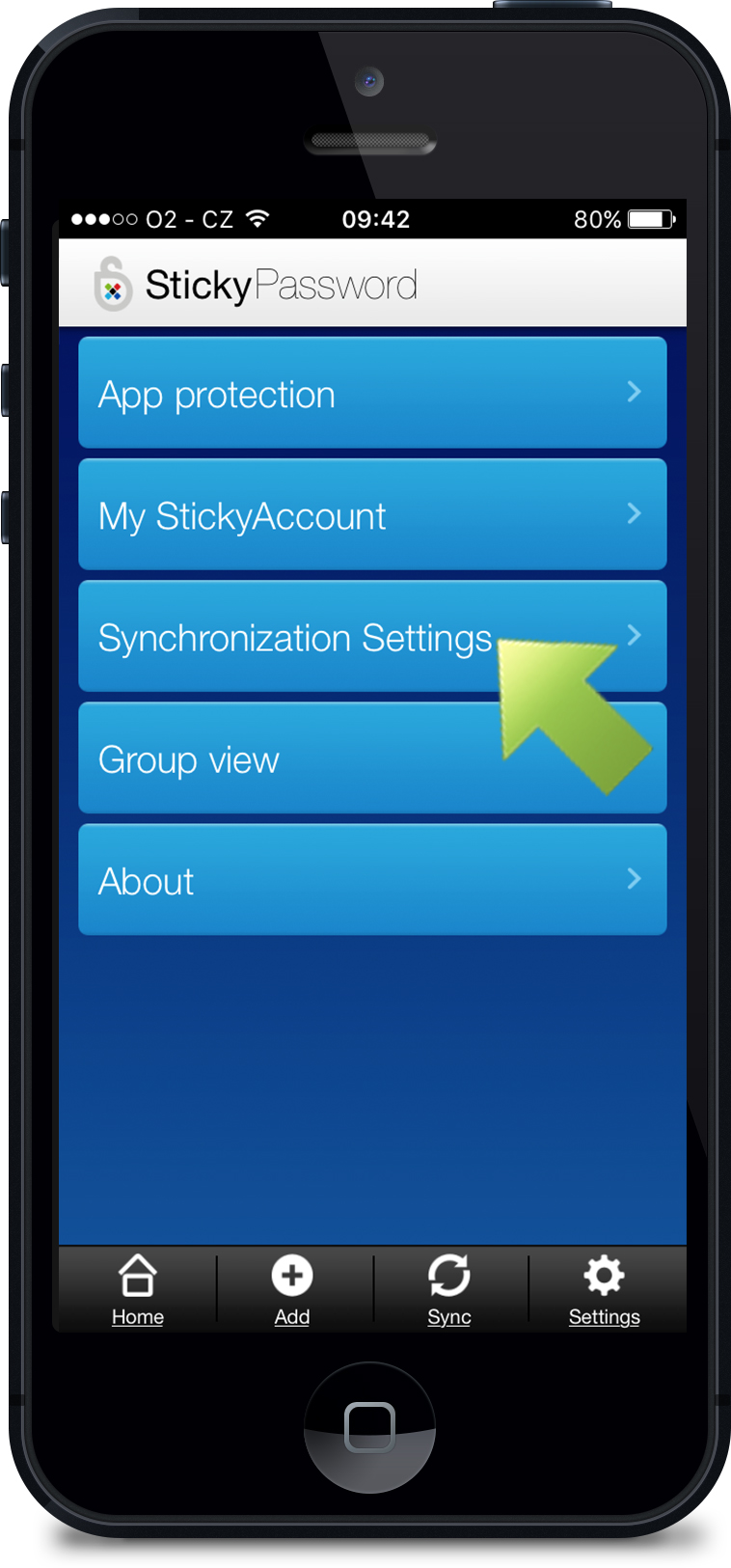 Tap Sync methods to reveal the available options.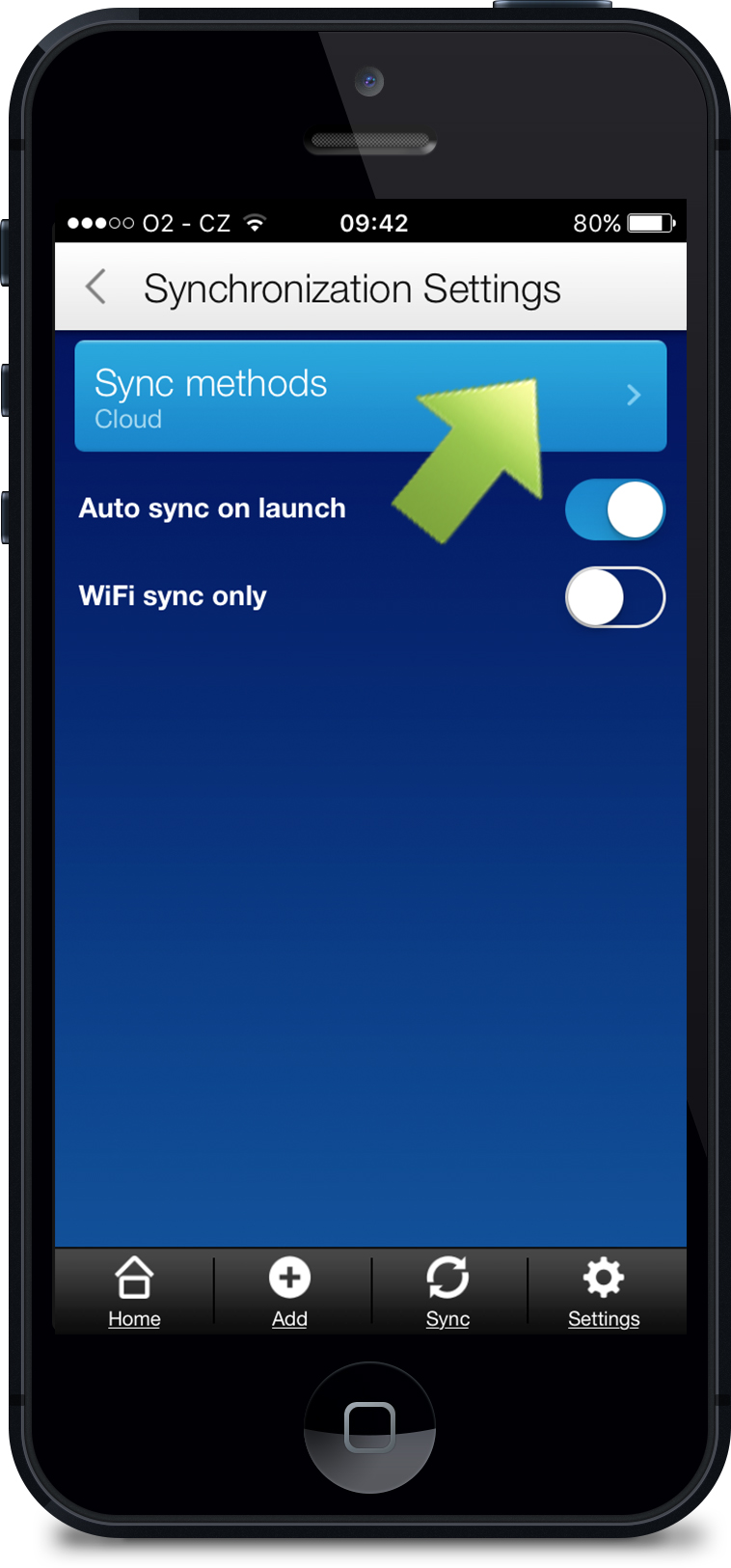 Select Local over Wi-Fi.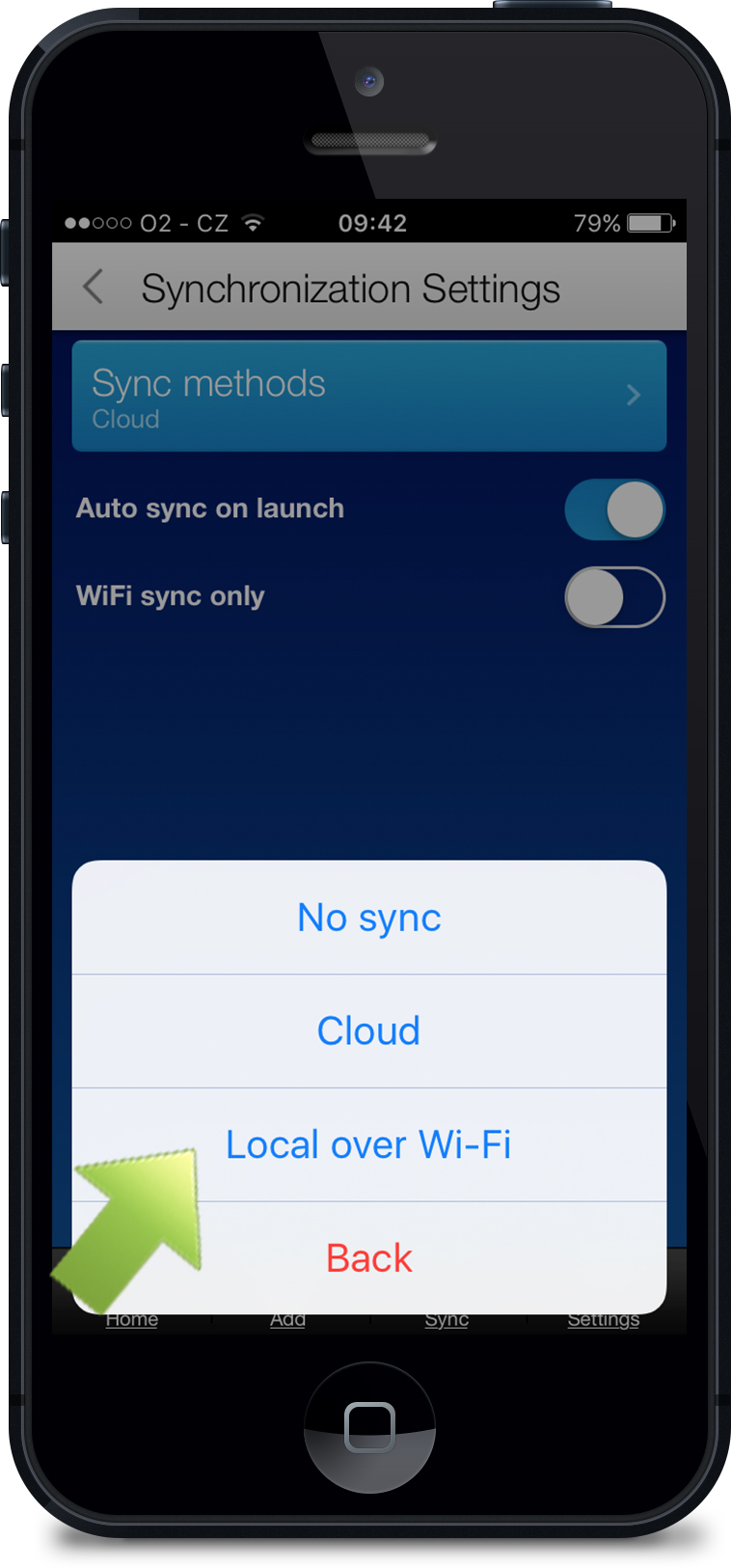 On your PC, open Sticky Password and click the small drop down arrow of the sync settings button in the lower left corner: select Sync - local.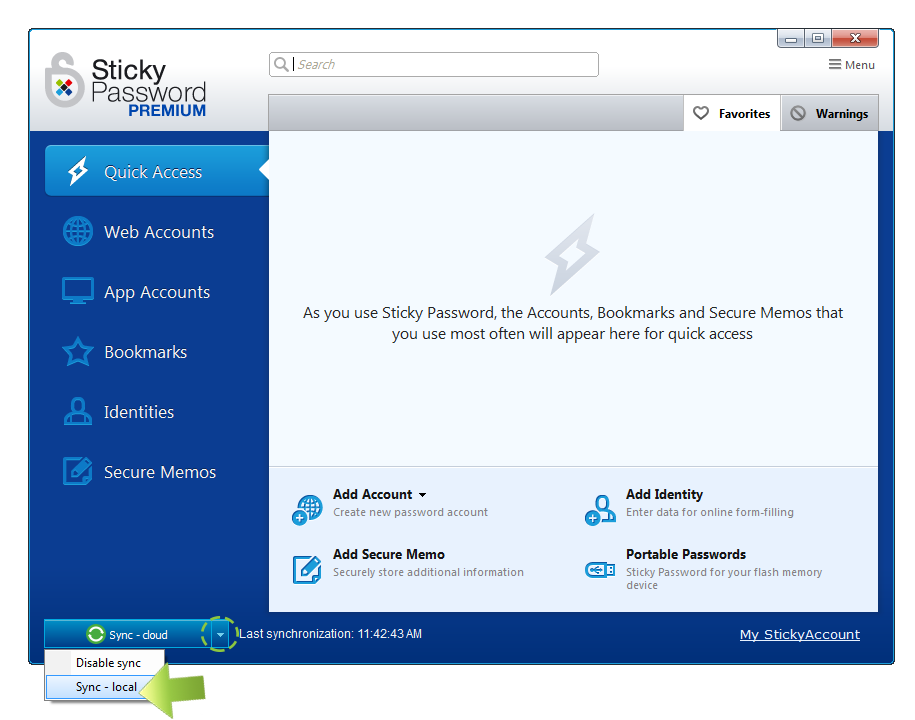 This will display the available devices that you are able to sync with. From the list that appears, select the device that you want to synchronize with and click Sync.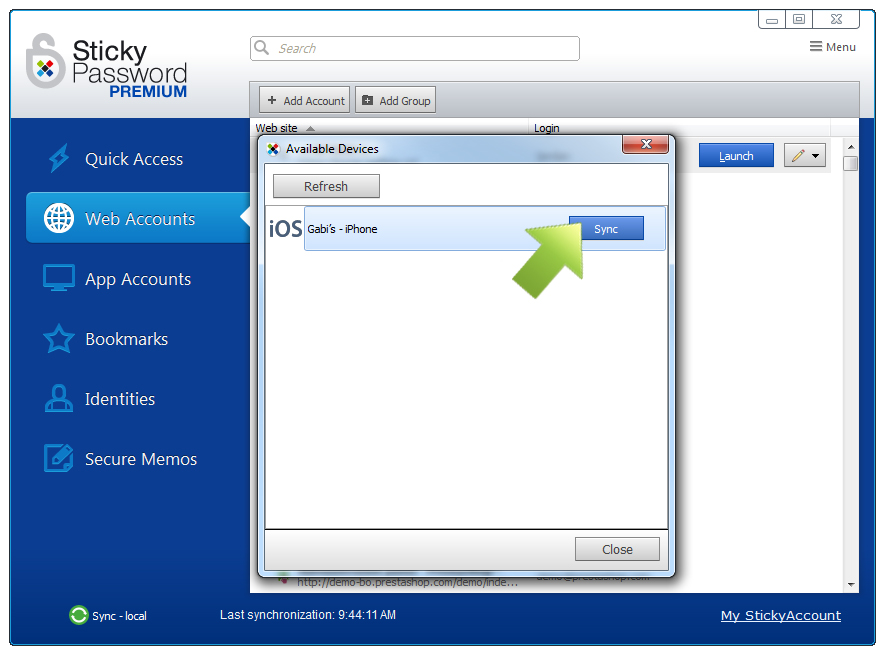 If this is the first time you'll be synchronizing with the selected device, a dialog will appear with a PIN that you'll need to enter in the other device - in this example, this is my iPhone device. For security purposes, the PIN needs to be entered in the target device within 30 seconds, or you will have to generate a new PIN on your PC.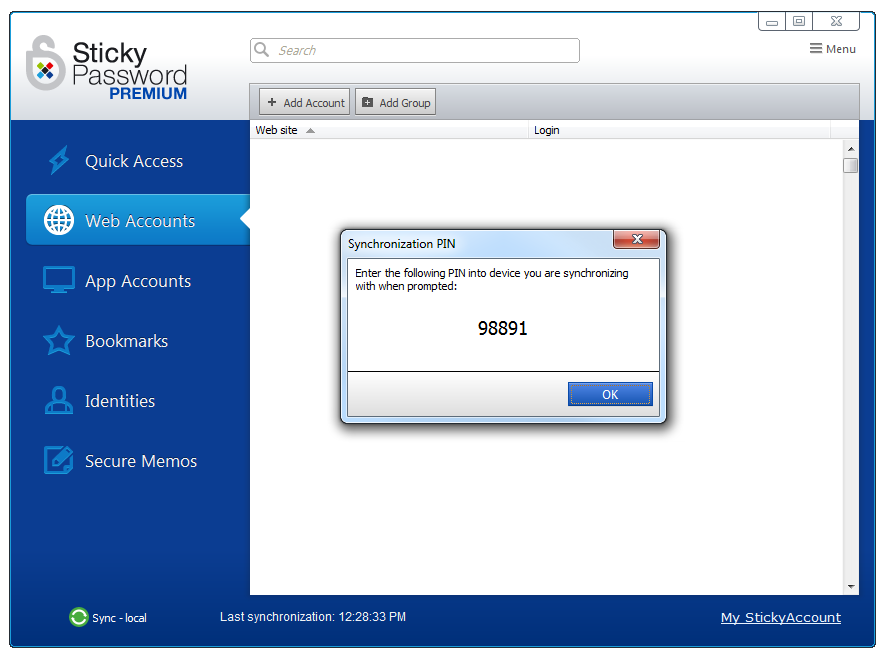 Enter the PIN when prompted on your iPhone/iPad device and tap OK.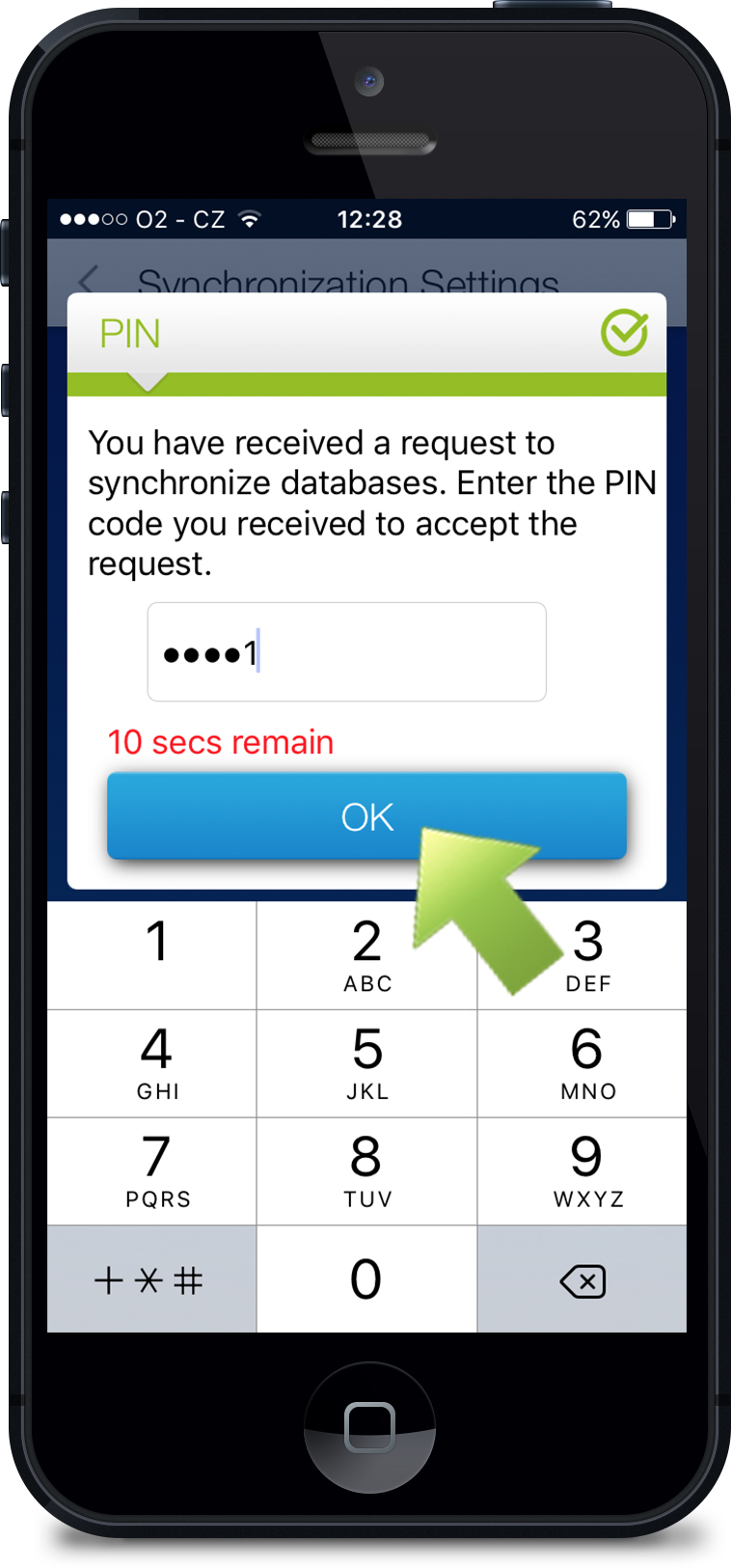 Your PC and your iPhone will now synchronize the encrypted Sticky Password database between themselves. The date and time of the last sync is always displayed at the bottom of the main Sticky Password dialog window.
Note: local syncing of your secure database is always initiated by you! If you plan on taking advantage of the control local syncing gives you, make sure to schedule a time when you will perform the local sync between your devices.