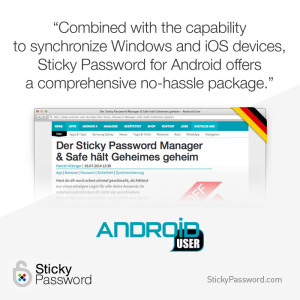 July is turning out to be a big month for all our German friends. The soccer team made its way convincingly to the final of the world's largest soccer tournament (olé olé olé), and the team at android-user.de just published a great review of Sticky Password for Android.
"Combined with the capability to synchronize Windows and iOS devices, Sticky Password for Android offers a comprehensive no-hassle package."
That says it nicely. Check out the original article (German language).
And, the great news is that you can get Sticky Password for your Android device even if you don't sprechen Deutsch. Visit Google Play to download Sticky Password for your Android device.
Congratulations to Germany for winning the World Cup, and to Argentina who can be proud of a great tournament.
Now that the 2014 edition is over, all soccer fans will have 4 years of hope and expectations that their team will win the next one!