June is National Internet Safety Month and Sticky Password has teamed up with a few of our online security friends to raise awareness of simple and effective ways we can all practice online safety at home.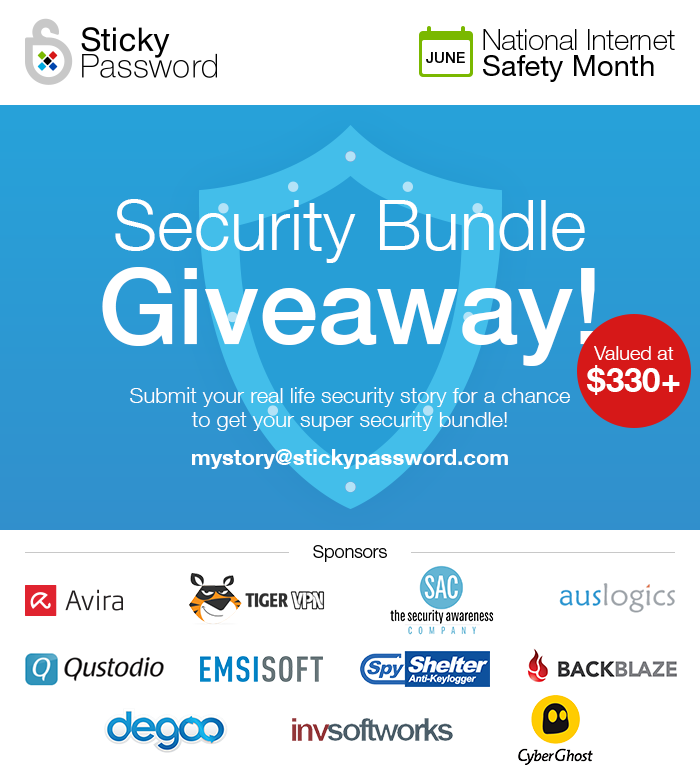 We're bringing you a giveaway event throughout June, in which people just like you give their real-life security stories, talking about their own experiences and practices in online security.
Send your security experience to [email protected] and help others by anonymously sharing your experiences and learning moments, and you may receive one of 10 super security bundles valued at over $330.
Have you or a family member fallen for a phishing attack?
Have you had a password hacked by a stranger, or misused by someone you know?
Have you had your hard drive crash and lost all your data?
Have you been cyberbullied?
Have you lost data because of a virus on your computer?
Join us and help others by sharing an experience that's happened to you!
Or, maybe you have a unique approach that others could also use to protect themselves?
Share your best practices at home, as well as mistakes you've learned from, attacks that you've recognized and avoided, or – we hope not – hacks that may have burned you.
What happened? How were your affected?
How did the experience change your approach to online security?
Or, ask us a question that you have about your online security.
Send your real life story to [email protected]. The stories can be sad, funny, surprising, educational or just pointing out something unexpected that you came across.
Each week, we'll choose the best entries to highlight best practices that people just like you can use at home. Throughout the month, we'll post our favorites in our blog, on Facebook and on Twitter. Of course, we won't use your name (unless you want us to) or reveal specifics that might disclose who you are. You'll be anonymous, but you're story will help others avoid online dangers that are out there waiting for everyone.
The 10 best entries during the month will receive a $330 super security bundle from our partners that includes a VPN, anti-virus, online backup, anti-keylogger, parental control, PC optimizer, encryption software and, of course, Sticky Password. That's a great foundation for your personal online security!
National Internet Safety Month Giveaway Event Sponsors:
Avira, TigerVPN, SpyShelter, Backblaze, Emsisoft, CyberGhost, Auslogics, Qustodio, The Security Awareness Company, Inv Softworks and Sticky Password
What's in it for you?
The best entries of each week will be included in the Sticky Password blog and social media, AND you may receive one of 10 super security bundles that we'll be giving away throughout the month, as well as lots of Sticky Password licenses!
Easy peasy lemon squeezy guidelines:
Keep it informal, entries will not be graded for grammar or spelling. Make it as short or as long as you want to. Sometimes, a picture speaks volumes. Feel free to submit photos or drawings that tell your story or make your point.
Please be nice. We will not post any offensive content.
Please

do not reveal

any real passwords, codes or information that would jeopardize your security. We're doing this to share helpful tips with readers like you, not to expose anyone's secrets. We won't even reveal your name – unless you ask us to.
By submitting your security story, you are confirming that you are at least 18 years old.