"People never notice anything."
Holden in J.D. Salinger's The Catcher in the Rye
That's the problem – the security problem. Most of the time, people don't notice anything.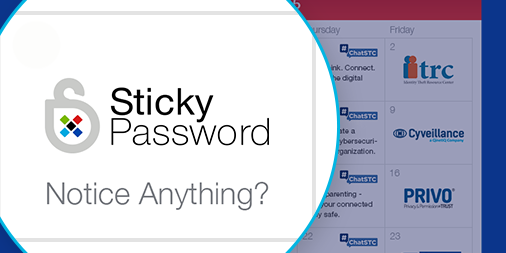 In our busy lives, we spend a lot of our time multi-tasking (don't get me started!), so we're distracted from noticing little things that we should notice and that can lead to trouble. We demand that all our gadgets be plug and play, and we expect hassle-free safety, security and privacy. And we think that that frees our mind with one less thing to have to think about.
By taking for granted that someone else is responsible for our security (a product vendor, a service provider, well-intended laws, etc., etc.), we often neglect the most basic rule of security: being aware. We don't pay attention to clues in the setting we're in, and then we can't react appropriately.
We don't notice…
– Did the terms of service change on my social media account?
– Why is my bank's logo weird in the email I received?
– What personal data is my flashlight app claiming a right to on my smartphone?
– Am I revealing my home address (GPS coordinates) with each cute picture I post online?
– Is it OK to use the same password for several accounts?
– Is the software on my device up-to-date?
And so on…
That's why awareness events are so important. To give you more hints on what to watch out for, and advice on how to react – what you can do to protect yourself. And, just as important, awareness events like National Cyber Security Awareness Month by the team at StaySafeOnline.org (powered by National Cyber Security Alliance) are a reminder to STOP.THINK.CONNECT.
The theme of NCSAM 2015 was Our Shared Responsibility. With that in mind, Sticky Password teamed up with a great group of organizations and security industry experts (all fellow NCSAM Champions) to share with us security advice from their areas of expertise.
Identity Theft Resource Center – Oct 2 – Being #CyberAware in the Online Marketplace
Solis Security – Oct 6 – Is Cyber Security Just Another IT Project?
Techboomers – Oct 7 –Older Adults Can Navigate Their Way to Being #CyberAware
Cyveillance – Oct 9 – One Phish, Two Phish, Bad Phish: Don't Click!
PocketGuardian – Oct 12 – You Can Help Prevent Cyberbullying
SentryPC – Oct 13 – Protecting Your Children on the Computer and Internet
Binary Tattoo – Oct 14 – Social Media Sign In: Risk or Reward?
PRIVO – Oct 16 – Teaching Kids About Passwords
Checkmarx – Oct 19 – Static Code Analysis – A Developer's Best Friend
Tutanota – Oct 20 – Encrypted Email: The Privacy Alternative to Gmail #CyberAware
Shred-it – Oct 21 – Protect Your Information in Any Format
SpyShelter – Oct 23 – You Know That Funny Feeling You Get When You're Being Stared At?
360 Cyber Security – Oct 26 – It Really Is About Who You Know
Educause – Oct 27 – This Magic Moment: Reflections on Cybersecurity
IT-ology – Oct 28 – A Sense of Security
A huge THANK YOU to all our partners this National Cyber Security Awareness Month!
We invite you to continue to develop your skill of noticing by visiting the Sticky Password blog and follow us on Twitter and Facebook.