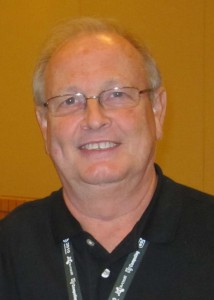 NEW YORK – June 4, 2014 — Password management software provider Sticky Password today announced that Larry Bridwell has joined the company as its Global Security Strategist. In this role, Bridwell, a leading expert in global technology security trends, strategies and challenges since 1996, will help bring more awareness to online security for consumers, as well as Sticky Password's password management solution.
"Larry's impressive background and leadership in global technology security made him the natural choice to help Sticky Password engage consumers and the industry in conversations about the importance of protecting personal data online and the security options that are available," said Petr Bilek, Sticky Password CEO."We are excited to have Larry on our team, as we continue to grow as a password management solution that enables improved security of a user's online life."
Prior to joining Sticky Password, Bridwell was vice president of Global Security Strategies of AVG Technologies. There, he provided leadership, research, and public dissemination of trending information on computer viruses, malware, internet security threats, network protection, endpoint security, and cybercrime.
Bridwell also spent 10 years with ICSA Labs, an independent division of Verizon Business, as Program Manager for Content Security Programs. Bridwell has been involved in various national and international anti-virus and malicious software working groups such as Association of Anti-Virus Asia Researchers (AVAR), the European Institute of Computer Antivirus Research (EICAR), Anti-Phishing Working Group (APWG), and the US Department of Homeland Security's Software Assurance Working Groups. He is a frequently requested speaker/panelist at IT security conferences, having presented at conferences such as Virus Bulletin, EICAR, AVAR, RSA, and InfoSec World.
"I look forward to lending my voice to keeping consumers informed and safe as IT security evolves to address threats to online personal data, such as Heartbleed," Bridwell said. "I'm proud to join Sticky Password, a solution created by people who live and breathe usable security every day, in their mission to make online security more convenient and accessible to consumers."
About Sticky Password
Sticky Password, founded in 2001, is a utility software that creates and organizes passwords to simplify a user's online life without compromising security. Sticky Password provides automatic login, one-click form filling, storage for personal data, and basic collaboration functionality for small groups. It brings "set and forget" password management technology to the world. Security leaders like Kaspersky Lab, among others, have selected Sticky Password to power elements of their own product solutions. Sticky Password is available at stickypassword.com and at major retailers including Target, Fry's, MicroCenter and Amazon.