March 21, 2017 – Sticky Password, a leading password management software provider and ESET, the global leader in proactive digital protection, announced their partnership today. Sticky Password technology will power the ESET Password Manager in the brand new premium line of ESET's home user product portfolio.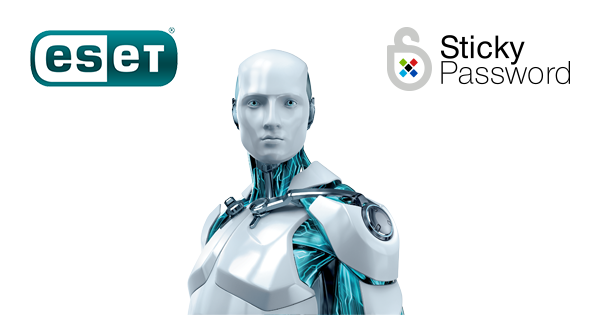 "ESET Password Manager by Sticky Password adds competitive secure password functionality to the ESET product family," said Juraj Malcho, Chief Technology Officer at ESET. "Moreover, ESET always aims to protect its users with best-of- breed complementary solutions. User-friendly design together with proven technology made Sticky Password solution a perfect fit for our new product line."
ESET Password Manager provides users with the flexibility to store, organize and secure their passwords. With multi-device support for desktops, laptops, tablets and smartphones, the software is available on all platforms with data always synced to easily integrate logins, auto-fill forms and passwords. With one master password to access all online accounts, ESET Password Manager saves users time in trying to figure out passwords for multiple accounts and ensures that they never forget a password again.
"A password manager is an absolute must in today's always-connected online world. Users need to have unique passwords for all of their accounts. A typical user has 30 or more accounts and it's not reasonable to try to remember them all," said Petr Bilek, CEO of Sticky Password. "I am delighted to partner with ESET – a trusted security leader – to bring password management to their customers."
For more information about ESET's premium home user product, please visit www.eset.com
About Sticky Password
Sticky Password is the developer of an award-winning password manager and form filler. Since 2001, our security products have been protecting millions of passwords for consumers and providing automatic login, one-click form filling and secure storage for sensitive personal data. Sticky Password has been the partner of choice for industry leading companies like Imation to power their password management solutions. Get more information at stickypassword.com
About ESET
For 30 years, ESET® has been developing industry-leading IT security software and services for businesses and consumers worldwide. With solutions ranging from endpoint and mobile security, to encryption and two-factor authentication, ESET's high-performing, easy-to- use products give consumers and businesses the peace of mind to enjoy the full potential of their technology. ESET unobtrusively protects and monitors 24/7, updating defenses in real-time to keep users safe and businesses running without interruption. Evolving threats require an evolving IT security company. Backed by R&D centers worldwide, ESET becomes the first IT security company to earn 100 Virus Bulletin VB100 awards, identifying every single "in-the- wild" malware without interruption since 2003. For more information visit www.eset.com or follow us on LinkedIn, Facebook and Twitter.