NEW YORK, NY – Oct 14, 2014 – Sticky Password, a leading password management software provider, has announced a licensing agreement to power ThreatTrack Security's new password management software, VIPRE® Password Vault. The licensing agreement allows ThreatTrack Security to utilize Sticky Password's security technology to help its customers manage their passwords and keep them secured. This agreement further exemplifies Sticky Password's influence in the online security industry to provide its partners with unparalleled technology to offer to their user base.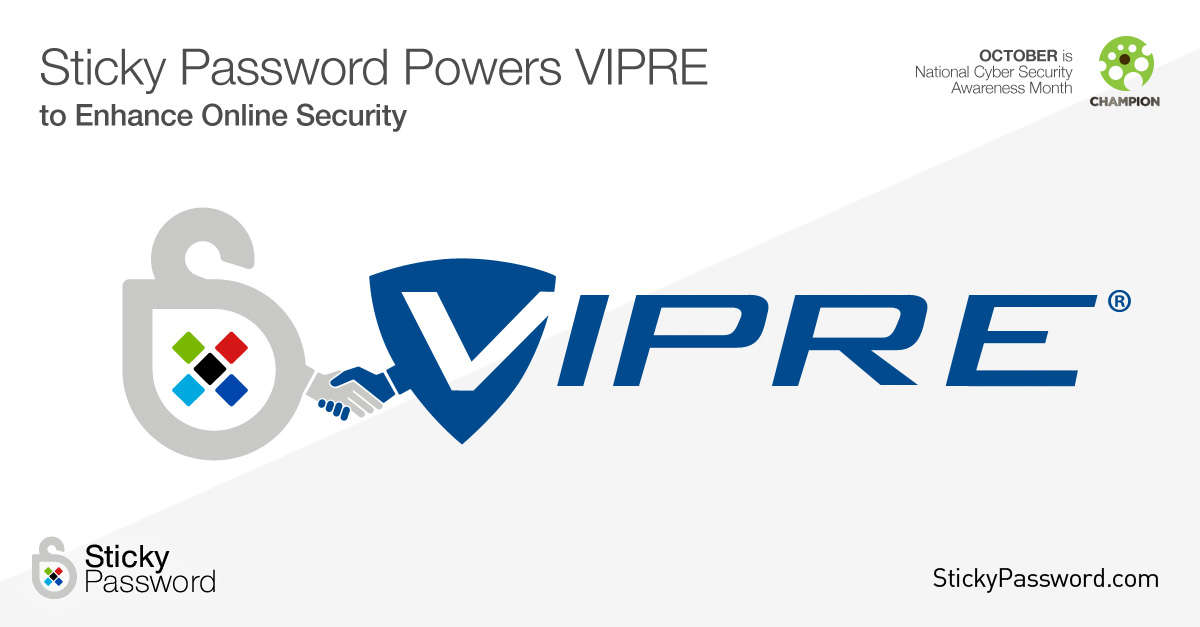 VIPRE Password Vault from ThreatTrack Security provides users with the flexibility to store, organize and secure their passwords. With multi-device support for desktops, laptops, tablets and smartphones, the software is available on all platforms with data always synced to easily integrate logins, auto-fill forms and passwords. With one master password to access all online accounts, VIPRE Password Vault saves users precious time in trying to figure out passwords for multiple accounts and ensures that they never forget a password again.
"Sticky Password's leadership in password management made it a natural choice when we evaluated technology to build a password management solution to extend our VIPRE product family," said John-Erich Mantius, Director of Consumer Business at ThreatTrack Security. "Sticky Password's reliable technology aligns with our goal of providing unrivaled security to our customers. VIPRE Password Vault extends our portfolio to protect users not only from malware, but other unforeseen threats as well."
Sticky Password technology protects millions of users from online hackers by using encryption algorithms integrated into its password manager database. The technology includes military-grade AES encryption increasing cybersecurity measures that focus on the end user and ensuring that their password is never susceptible to hackers.
"Password managers provide an invaluable solution for online users by ensuring that they are always protected," said Petr Bílek, CEO of Sticky Password. "We are delighted to partner with a trusted security leader like ThreatTrack Security to bring password management to their customer base."
VIPRE Password Vault is now available for purchase through VIPRE's website, www.vipreantivirus.com.
About Sticky Password
Sticky Password, founded in 2001, is a utility software that creates and organizes passwords to simplify a user's online life without compromising security. Sticky Password provides automatic login, one-click form filling, storage for personal data, and basic collaboration functionality for small groups. It brings "set and forget" password management technology to the world. Security leaders like Kaspersky Lab, among others, have selected Sticky Password to power elements of their own product solutions. Sticky Password is available at stickypassword.com and at major retailers including Office Depot, Office Max, Fry's, MicroCenter and Amazon.
About ThreatTrack Security Inc.
ThreatTrack Security specializes in helping organizations identify and stop Advanced Persistent Threats (APTs), targeted attacks and other sophisticated malware designed to evade the traditional cyber defenses deployed by enterprises and government agencies around the world. With more than 300 employees worldwide and backed by Insight Venture Partners and Bessemer Venture Partners, the company develops advanced cybersecurity solutions that Expose, Analyze and Eliminate the latest malicious threats, including its ThreatSecure advanced threat detection and remediation platform, ThreatAnalyzer malware behavioral analysis sandbox, ThreatIQ real-time threat intelligence service, and VIPRE business antivirus endpoint protection. Learn more at www.ThreatTrackSecurity.com.
Press Contact:
Fran Bosecker
Vantage PR for Sticky Password
845-536-1416