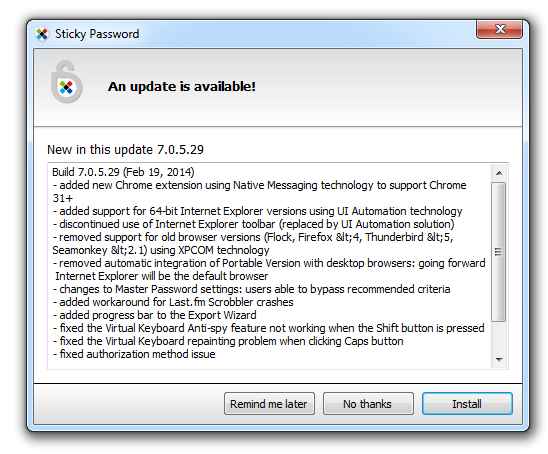 The new release of Sticky Password has been released today, and we wanted to let you know about the new functionality you'll enjoy with it. In addition to various fixes and minor cleanups, Sticky Password 7.0.5 includes several improvements for better browser interaction.
As an update, the new release is available to customers who have bought or upgraded to Sticky Password 7. Trial version customers are also able to install the update for the duration of their trials. Sticky Password will prompt customers when the new release is available. Alternatively, you can check for updates by right-clicking on the Sticky Password icon in the Taskbar, expanding the dropdown Help menu and then clicking on 'Check for updates'.
The new release supports the new Native Messaging API that was rolled out by Google in Chrome 29. As a result, Sticky Password will able to seamlessly support future releases of Chrome as well as older versions.
Sticky Password 7.0.5 incorporates support of UI Automation. Microsoft UI Automation is a technology that provides programmatic access to most UI elements on the desktop. It enables assistive technology products, such as screen readers, to provide information about the UI to end users and to manipulate the UI by means other than standard input.* UI Automation allows Sticky Password to interact with the 64-bit versions Internet Explorer 10 and 11 without requiring toolbar modifications, which means that no plugin will be required.
Users of older versions of several browsers should note that the new release of Sticky Password will no longer support XPCOM. This will impact only the few Sticky Password customers using old versions of the following browsers (under the Mozilla umbrella, or based on the Firefox browser):
– Firefox – versions earlier than 4 (note that Mozilla announce 'end of life' for Firefox 4 in 2011)
– Thunderbird – versions earlier than 5
– SeaMonkey – versions earlier than 2.1
– Flock – all versions (based on Firefox 3)
For security and support purposes, if you are using old versions of these browsers, we strongly recommend that you upgrade to the current version offered by the respective vendor.
The final major change in the new release involves the integration of Sticky Password Portable with the host computer's browser. In order to provide support for various browsers, previous versions ofSticky Password Portable initiated changes to the registry of the host computer and to take other actions such as registration of necessary plugins. In order to streamline interoperability with the host computer, going forward Sticky Password Portable will support MS Internet Explorer as the default browser.
*http://msdn.microsoft.com/en-us/library/windows/desktop/ee684009%28v=vs.85%29.aspx