We have received reports from some users running Sticky Password on Mac OS Ventura encountering a launch issue. When attempting to start the application, they are presented with the error: "System service activates the agent":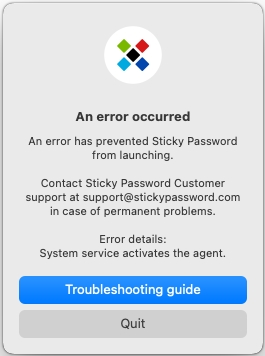 This issue arises because a component of Sticky Password seems to be deactivated by the Mac OS system.
If you are experiencing this problem, please follow the steps outlined below to rectify it:
Close the error window by clicking "Quit".

Look for "Sticky Password" in the list of items. If it's turned off, click the switch to enable it.

Finally, relaunch the Sticky Password application and unlock it.
Performing these steps should rectify the issue, and you should be able to launch Sticky Password without encountering the error message.