In addition to your logins and passwords, Sticky Password is great at storing all sorts of data and information that needs to be kept secure and conveniently accessible.
Take advantage of storing answers to your security questions for your online accounts, IDs, credit cards, and personal data in the encrypted database that is synchronized across your devices.
Account Comments
In addition to the Login and Password data stored for all your Web and App Accounts, Sticky Password lets you enter additional information in the comments section of each Account.
Extra tip: Use comments for storing the secret answers to security questions and more. Make the answers to your security questions tricky, so that other people who know you won't guess them!
Storing the answers for each of your accounts in the respective Comments section is the best way to have them ready whenever you need them.
Identities
Sticky Password lets you store information about yourself that's used for online form filling and shopping online. Things like your name, address and credit card information can be stored securely to give you 1-click form filling.
Sticky Password recognizes when you are filling in a form and will prompt you to use an existing Identity or to create a new one.
Identities save you time and the frustration of having to enter and re-enter data on different sites, as well as making sure there are no typos. Check out our tutorial about Identities.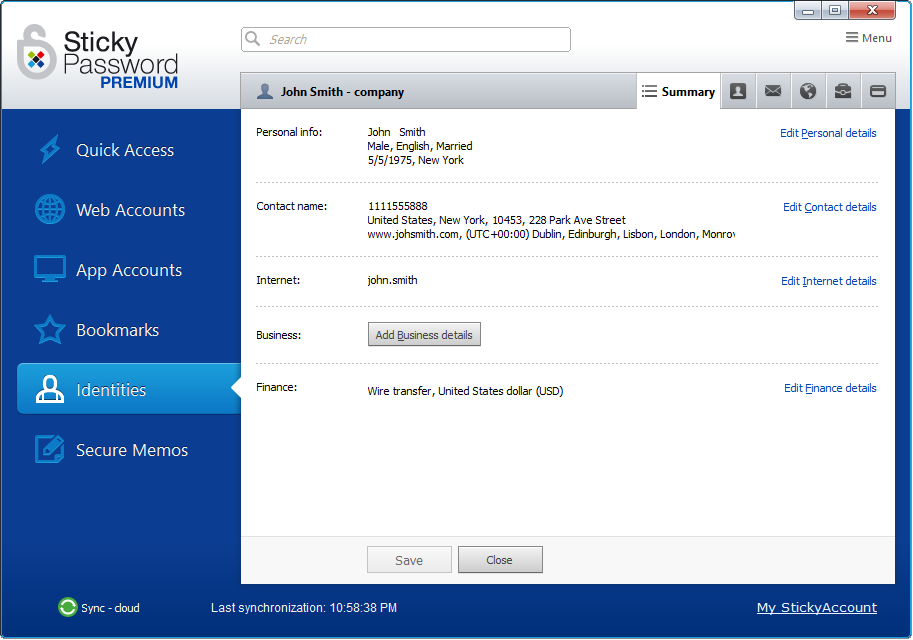 Secure Memos
Another great way of storing all sorts of data from your passport data and frequent flyer memberships and other IDs to the security settings on your WiFi and other devices are Sticky Password Secure Memos.
Pick one of the convenient templates or simply enter the data you need to store, and Sticky Password will remember it for you. Check out our tutorial about Secure Memos.